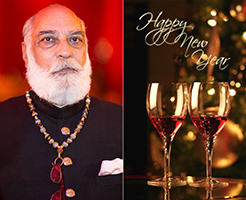 It's just that time of the year when greetings continue to flow, ceaselessly. Friends and well-wishers from all over the world are mailing and calling to wish 'A Happy New Year'. To all the friends here, I would like to wish not just a happy new year, but also a healthy and prosperous one: A year when we can remain focussed and positive, and not let anything unsettle us. I pray, that for you and your family, 2014 proves to become a landmark year!
Udaipur at this time of the year is cold in the nights but sunny and warm during the days. It is the days' blue skies which make every visitor feel the warmth of nature. Rajasthan comes alive in these days; wherever you go from the deserts of Jaisalmer and Bikaner to the metro-life in Jaipur, you will find brilliant colours and huge smiles on peoples' faces. Through my travels in Rajasthan, I have always enjoyed driving down to Bikaner and Gajner in these months. Every town and temple-town is abuzz with activity.
It is a pleasure to drive along the well-maintained highways which link these important cities of Rajasthan. The desert expanses, during these months, also present spectacular sights. If you are a bird-watcher, the lakes and water-bodies are teeming with bird-life. At the Gajner Palace, which is built on the shores of Gajner Lake, the demoiselle cranes arrive in huge numbers and they make their presence felt with their calls!
As is the nature of every season, it does change. In February and March, the wintry chill disappears and the days and evenings become mellower. According to the Hindu (the Vikram Samwat) calendar, our new year begins with the first day after the new moon, in the month of Chaitra. According to the Gregorian calendar, Chaitra usually is in the months of March–April. The nine-day Navratri festival season begins on this day, culminating on Ram Navami day, which is celebrated as the birthday of Lord Rama. There is enormous significance to these nine days and what they represent in the life and message of Lord Rama.
Once again, I wish you the best in 2014 and pray that the Lord Almighty's blessings continue to enrich your life.